Full Disclosure:
We have partnered with UpgradedPoints.com to make recommendations on our favorite credit cards, including travel rewards credit cards. See our full Advertiser Disclosure
here
.
The St. Regis New York is a legendary luxury hotel that first opened in the early 1900s. As the flagship property of the St. Regis brand, which is owned by Marriott, the St. Regis New York has developed an undeniable reputation for being the sanctuary for the ultra-rich visiting New York.
I wanted to check out the most famous hotel in New York to get a taste of its opulence before heading to review the Hilton Times Square, a much more accessible property (but still quite expensive at $400 per night!).
It's impossible to deny the historical significance of this hotel, but could it really live up to its hype? In this guide, we'll be offering an in-depth review of The St. Regis New York.
Booking
Because The St. Regis New York is a Marriott property, you can redeem Marriott Bonvoy points to stay here.
The St. Regis New York is a Category 8 property, which commands 85,000 Marriott points per night during standard nights, 70,000 Marriott points per night during off-peak nights, and 100,000 Marriott points per night during peak nights.
Although my stay happened to coincide with the US Open Tennis Championships, I was still able to snag standard award availability for 85,000 points per night.
If you think getting 85,000 points for 1 hotel night is a lot, you'll want to read this guide of things people get wrong about points and travel to learn more about how amassing lots of points is possible even for regular people.
I decided to use one of my Suite Night Awards from being a Marriott Bonvoy Platinum member to try to confirm an upgrade to a spacious suite. I redeemed 85,000 points for a Superior 1 King Guest Room, used a Suite Night Award to get upgraded to a Deluxe 1 King Suite.
Nugget of Advice:
We show all of our students how to access incredible suite upgrades for free (or cheap) at The Points University, the most complete, 16-week course in travel hacking out there.
Little did I know, however, that I would end up staying in an even more lavish suite…
Location
The St. Regis New York is located in Midtown Manhattan at 2 East 55th Street, but the property is just off of 5th Avenue, which makes this hotel one of the most centrally located in all of Manhattan.
And there were always lines of taxi cabs and chauffeurs waiting to pick up guests at the front of the hotel.
The St. Regis Hotel New York is a landmark in its own right, thanks to its designation by the New York Landmarks Preservation Foundation.
Check-in
From the moment I stepped foot through the iconic, gold-clad revolving doors until I concluded my stay at the property, I could feel the timeless luxury and unparalleled service that exceeded all of my expectations for this chic hotel.
I showed up at the hotel promptly at 4 p.m. to check into my room. Upon arriving, however, I was informed that my suite was not yet ready. The staff apologized profusely for this, and they offered me a cup of coffee and led me to comfortable seating areas while they checked on the progress of the suite. I took this time to snap a few photos of the front desk.
If you're staying here using points, you almost have to constantly pinch yourself. I got this for free?
The concierge was located just off to the side of the front desk area, and they were all extremely helpful and gracious. Just behind the front desk area was a staircase, which offered useful directions to the hotel's main facilities.
The St. Regis New York is one of the many properties that levies a destination fee, also known as a resort fee. This is a mandatory fee assessed per night and per room. In practice, it's essentially another cost, but I didn't mind because it ended up getting me a ton of extra perks.
One of the managers informed me that the Deluxe Suite wasn't quite ready yet, but I was grinning ear-to-ear when I discovered that I had been upgraded 4 levels higher, all the way to the Fifth Avenue Suite.
I knew I was in for a treat because this suite was commanding an eye-watering $4,000 per night during my stay.
Elite Benefits
Because of my Marriott Platinum status, I was treated to a welcome amenity, which could be free breakfast or 1,000 Marriott Bonvoy points. As you can imagine, I chose the free breakfast. Unlike other St. Regis properties, the St. Regis New York offered me a (nearly!) unlimited free breakfast. I ended up getting a $100 gigantic breakfast spread, instead of a measly $20-$30 dining credit!
I also utilized the 4 p.m. guaranteed late check-out. Unfortunately, The St. Regis New York doesn't have a lounge, so I wasn't able to utilize the lounge access perk. The free breakfast made up for it, though!
And although Marriott Platinum members get standard suite upgrades subject to availability, I went ahead and use my Suite Night Award to maximize my upgrade odds.
The St. Regis New York 5th Avenue Suite ($4,000 per night)
So what does a $4,000 suite look like? I stayed in Room 1801. The 5th Avenue Suite measures a total of 1,100 square feet, and there are 2 full bathrooms, a separate living room, an oversized King bedroom with en-suite master bathroom, a large walk-in closet, and amazing 5th Avenue views. I entered through the polished single doors and found myself in a long entryway.
One thing I noticed was how technologically advanced this suite was. With functional and aesthetic controls, I knew my stay was going to be seamless.
There was a long entryway shoe bench, along with a corner umbrella holder, which housed 2 complimentary umbrellas for use.
I was immediately met with the separate living room to my right, and it was mind-bogglingly opulent.
The first thing I noticed was the welcome fruit plate.
The main seating areas were a large velvet sofa and an armchair. There was a glass coffee table with complimentary, oh-so-delicious St. Regis chocolates.
Next, there was a bright windowsill, complete with a plush step bench and soft furniture.
In the corner, I found an office desk, complete with a control console for the entire suite!
I could control virtually anything in the entire suite, from lighting to air conditioning temperature and even the motorized shades.
As I finished exploring the living room, I found the main bedroom (left), a dry bar with minibar (middle), and a separate bathroom (right).
I entered the separate bathroom and found a vanity and heated floor controls!
I also found a separate bidet.
I entered the bedroom and found an oversized Eastern King bed, complete with the plushest bedding, an opulent headboard, and even Bose speakers!
This was certainly one of the most comfortable beds I've ever had the privilege of sleeping in.
There was also a velvet lounger in the corner of the bedroom.
On each side of the bed, there were reading lights and more room controls.
I finished touring the bedroom and decided to check out the walk-in closet. The closet has tons of storage space, including a safe and numerous shelves.
There were also numerous amenities, like an oversized shoe brush and a long shoehorn.
If you stay here, you definitely won't have any issues with finding places to store your belongings.
The Master Bathroom – A Crown Jewel of The St. Regis
One of the hallmarks of The St. Regis brand is the extravagant bathrooms. With such attention to detail, these bathrooms are some of the most aspirational bathrooms in the world. I was constantly in awe of how gorgeous the master bathroom was.
Upon entering the master bathroom, I immediately noticed the spa-like marble lining the walls and the ground. The dual vanity was no exception.
The dual vanity was beautiful and well-appointed. It even had a fresh flower!
On the right-hand side of the vanity, there was a lighted make-up mirror, 2 GFCI outlets, electronic bathroom controls, and a floor heating console.
There was also a TV in the mirror!
The vanity amenities were plentiful, ranging from disposables like cotton buds to mouthwash and luxurious Laboratoire Remède body lotion and a face bar.
Directly behind the dual vanity was the magnificent soaking tub. As you can expect, it was chock full of amenities, too.
There was a beautiful vanity stool tucked behind the door just in front of the soaking tub.
Located alongside the bathtub were a St. Regis elizabethW lavender bath pouch, a bath scrubber, and an additional body bar.
The shiny, stainless steel bathtub faucet and hardware were in impeccable condition.
Perhaps the coolest part of the bathroom was the fact that it had a Kohler jetted tub with intuitive controls.
Undoubtedly, one must throw in the luxurious, hand-crafted bath pouch and go for a rejuvenating dip in the soaking jetted tub. This was absolutely a highlight of the room.
The toilet was separate from the other bathroom facilities, via a satin glass door.
The shower was also separated via a floor-to-ceiling satin glass door with the St. Regis logo etched onto the door.
St. Regis is known for its splendid amenities from Laboratoire Remède. In the shower, you'd find Laboratoire Remède shampoo, body wash, conditioner, and a bath bar.
Hanging on the back of the master bathroom door are 2 pairs of plush bathrobes, plus a hairdryer.
In all honesty, you will be hard-pressed to find bathroom facilities more luxurious than this. If being in an oasis is something you like, then you'll want to consider staying at The St. Regis New York just for the bathroom amenities.
Food and Beverage
The St. Regis New York is renowned not only for its service but for their iconic culinary options. There are 2 main eateries:
Astor Court
King Cole Bar
Astor Court is the full-service restaurant, while King Cole Bar is the bar also serving light bites. King Cole Bar is reputed to be the birthplace of the Bloody Mary alcoholic drink as well!
Dinner at Astor Court
For dinner, I headed downstairs to Astor Court and utilized the $50 food and beverage credit that was already paid for by the destination fee. Astor Court features a chic, open-air dining area open for breakfast, lunch, afternoon tea, as well as dinner. Here's what the menu looks like:
First, I started with complimentary bread.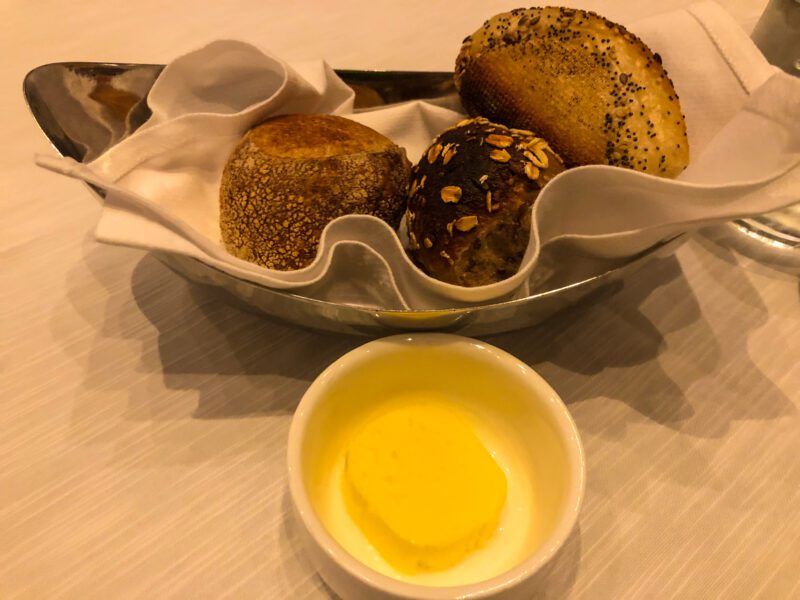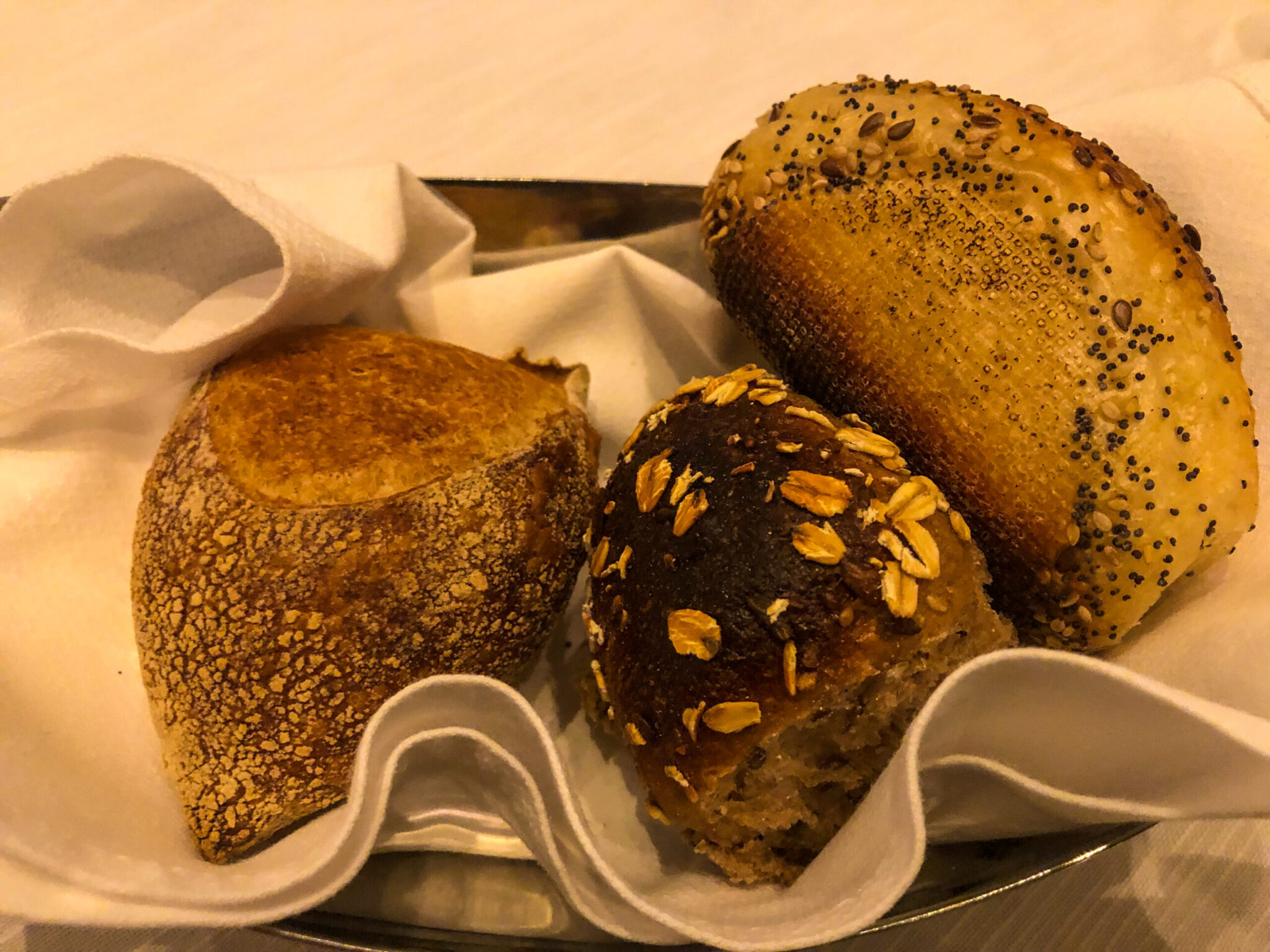 I ordered the bone-in veal cutlet, which came with crispy smashed potatoes, a baby greens salad, and a rich truffle vinaigrette.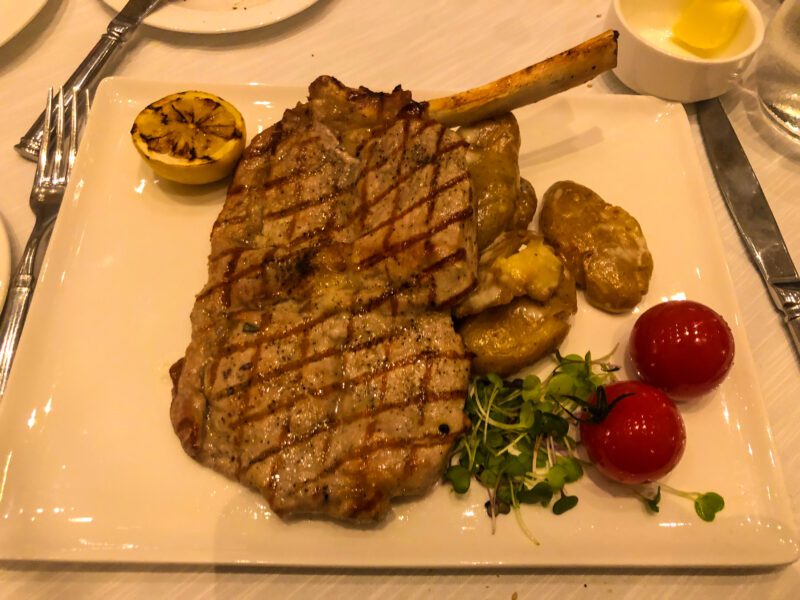 The flavor of the veal cutlet was simple yet glorious, thanks to the richness of the truffle vinaigrette and the acidity of the roasted lemon juice squeezed directly onto the veal. The smashed potatoes were flavorful, and the baby greens salad provided just a hint of bitterness to cut through the other dominant flavors in the dish.
Breakfast at Astor Court
Breakfast at Astor Court was a treat, thanks to the free breakfast benefit from being a Marriott Platinum member. As I mentioned, breakfast in its entirety was complimentary. When I asked the front desk if there was any "limit" to the free breakfast, they looked at me with confusion and graciously mentioned that there is no limit.
While a much-appreciated perk, I had the intention of eating a full breakfast while not taking advantage of the system. As soon as I woke up, I trotted downstairs to savor a New York breakfast. I was promptly seated and handed the breakfast menu.
I started with a freshly squeezed cup of grapefruit juice.
For the morning pick-me-up, I opted for a delicious cappuccino.
To begin with, I enjoyed a toasted bagel with whipped butter balls.
I proceeded to order the Traditional Eggs Benedict, which was topped with caviar and adorned with roasted potatoes. As a longtime lover of Eggs Benedict, I thoroughly enjoyed this dish. With just the right amount of richness from the caviar and Hollandaise sauce plus the crunch from the toasted English muffin, I was sad to see that I devoured the whole dish in just a couple of minutes.
I ordered the St. Regis French Toast from the Griddle section, and the cornflake crusted brioche bread was topped with caramelized bananas, powdered sugar, fresh strawberries, and served with Woodlands Select single-origin organic maple syrup.
The breakfast at The St. Regis New York is certainly one of the biggest perks of being a Marriott Platinum member. The breakfast spread is extremely impressive. I was even more surprised to hear that you can take the complimentary breakfast via room service!
King Cole Bar
King Cole Bar is a legendary social club, and it happens to be the birthplace of the Bloody Mary. I didn't have a chance to sample any of their cocktails, but its reputation is certainly one that'll impress even the most discerning of hotel guests.
However, I did snap lots of pictures of the menu.
The St. Regis Athletic Club
The St. Regis Athletic Club is the fitness center within The St. Regis New York. Located on the 19th floor, The St. Regis Athletic Club is open 24/7 and is complimentary for all guests. I took the elevator up to the 19th floor and found the gym's double doors.
I scanned my key card, and I discovered one of New York City's best hotel gyms, featuring Technogym's most advanced ARTIS gym equipment.
There was an entire wall dedicated to Technogym's ARKE Flexibility equipment.
There were plenty of free weights, dumbbells, and other exercise machines throughout the facility.
There was also a cubby with fresh fruit, clean towels, cold water bottles, headsets, and even chilled towels.
There was also a complimentary literature rack near the entrance of the Athletic Club.
Business Center
The business center was closed by the time I got there, but there was a corner front-desk for checking in.
I managed to snap a picture of one of the conference rooms, which featured comfortable office chairs and teleconferencing materials.
Also, there were 2 work stations equipped with a desktop computer, an office chair, and other accessories.
There was also a shredder and a gigantic laser printer.
Usage of the business center is not free, so be sure to keep that in mind.
Bentley House Car Service
One of the coolest aspects of The St. Regis New York is the Bentley House Car Service, also known as the Bentley Courtesy Car Service. Available on a first-come, first-served basis, you can arrange for complimentary drop-offs within a 10-block radius of the hotel. You can also reserve private usage of the car, though fees will apply.
This service was a luxurious addition to the overall St. Regis experience.
Oddly enough, shortly after my Bentley ride was over, a taxi cab driver rear-ended the Bentley, which forced out of service for several months.
St. Regis Butler Service
When staying at St. Regis properties, one key benefit is the St. Regis Butler Service, which offers numerous amenities. The first thing I noticed was the complimentary shoeshine service.
Also, the St. Regis Butler Service includes complimentary garment pressings (up to 2 garments per person).
I requested some extra amenities from the butler, and I was pleasantly surprised at how many goodies there were. I was given a toothbrush, toothpaste, Old Spice deodorant, a shaver, and a plate of chocolates!
Salon Fodera
Salon Fodera is an on-site barber/salon offering many types of hair treatments for everyone. While I didn't take advantage of this service during my stay, you can use the Salon Fodera credit to get up to $25 off hair services.
Final Thoughts
I had an amazing time at The St. Regis New York. This hotel sets the standard for opulence in the hustle and bustle of Manhattan. Although the hotel was quite full with most of the guests being leisure travelers going to the US Open, I was blown away by the consistently friendly, helpful, and warm service at The St. Regis New York.
I booked a stay here with high expectations, and yet they went above and beyond in every regard. From generously upgrading me to a $4,000 per night suite when I only paid 85,000 points and $60 in taxes and fees to the full breakfast welcome gift and even the in-suite amenities, I was incredibly lucky to have the privilege of experiencing the luxury and opulence of The St. Regis New York.
This hotel is not for people who just need a bed to sleep in while exploring New York. This hotel is for the deep-pocketed who want to experience classical luxury where doormen, butlers, afternoon tea, and exquisite service are the highlights.
Full Disclosure:
Advertiser Disclosure: We've partnered with UpgradedPoints.com to help make the best recommendations on our favorite credit cards. We may receive a referral bonus from card issuers if you apply for cards through these links. This site does not include all financial companies or all available financial offers.
Editorial Disclaimer: The opinions expressed here are the author's alone, not those of any bank, credit card issuer, airlines or hotel chain, and have not been reviewed, approved or otherwise endorsed by any of these entities. Any offers mentioned above are accurate at the time of publication but are subject to change at any time and may have changed, or may no longer be available.
Featured Image Credit: AuPACS